Lataguri Resort Owners Welfare Association

Lataguri means the invtation of the Gorumara Forest and her greenery. The encounter with the One-horned Rhinoceros, India Gaur, Wild Elephant, Spotted Deer, Varieties of Birds and Butterflies would make you overjoyed. The places at the foothills of the Himalayas such as Jhalong, Bindu, Samsing, Suntaley Khola, Rocky Island, Laligurs and Sakam and the extent tea garden would fill your mind worth untainted happiness. Lataguri is situated just in the heart of Gorumara National Park in Jalpaiguri District, West Bengal.
Dooars means door to Bhutan, you may also enjoy the beauty of Darjeeling, Gangtok, Phuentsholing and that region from here. You can reach in the twirl of an eye, one can also have a viewing and a lifetime experience here at Lataguri. Where nature has extended her carelessly adorned apron visible in the distant horizon; where the twines swivels with the rhythm of nature,where the tune f the huge tabors are heard; where you can be wild with joy at the boundlss beauty of nature; Lataguri it is.Lataguri is Situated just in the heart of Gorumara National Park in Jalpaiguri District,West Bengal.
Activities & Places of Interest
Forest Safari in different parts of the National Park
Dooars Hills, Rivers, Forest & Tea Garden.
Visit to Tea Processing Factory.
Visit to Bhutan & Bangladesh Border
Bird Watching(More than 200 species of birds in the National Park.)
Tea Garden and River Trail with By-Cycle.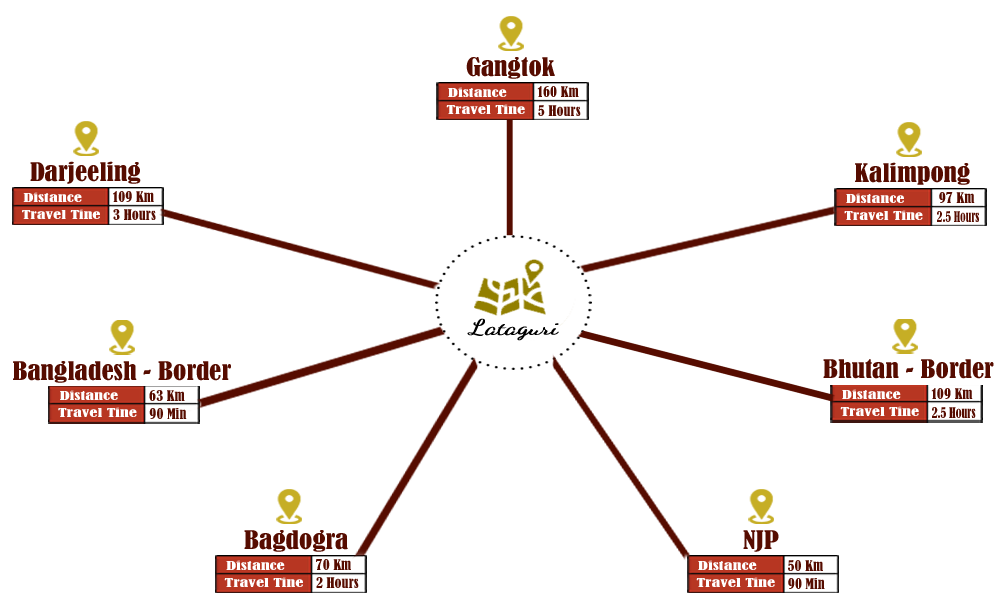 General Informations
Lataguri experiences high humidity during the summers and you may feel uncomfortable. The hot and humid climate of Lataguri starts from the month of March and extends till the end of June. The winters are mild and pleasant from December through February with the temperature dipping down to the maximum of 10 degrees Celsius, makes Lataguri tourist treasured destination.
The best time of the year to visit Lataguri is between the months of November and March. With lavish scenic beauty, Lataguri is a year-round tourist landing place. The park is closed in the monsoon season from 16 June to 15 September.
Gorumara National Park, Chapramari Wildlife Sanctuary, Samsing, Jhalong, Bindu & Bhutan Boarder,
Jeep Safari, Jatraprasad Watch Tower, Rhino Observation Point, Chukchuki Bird-watching Point, Chandrachur Watch Tower & many more.